What Kind of City Do We Want? Plan for Change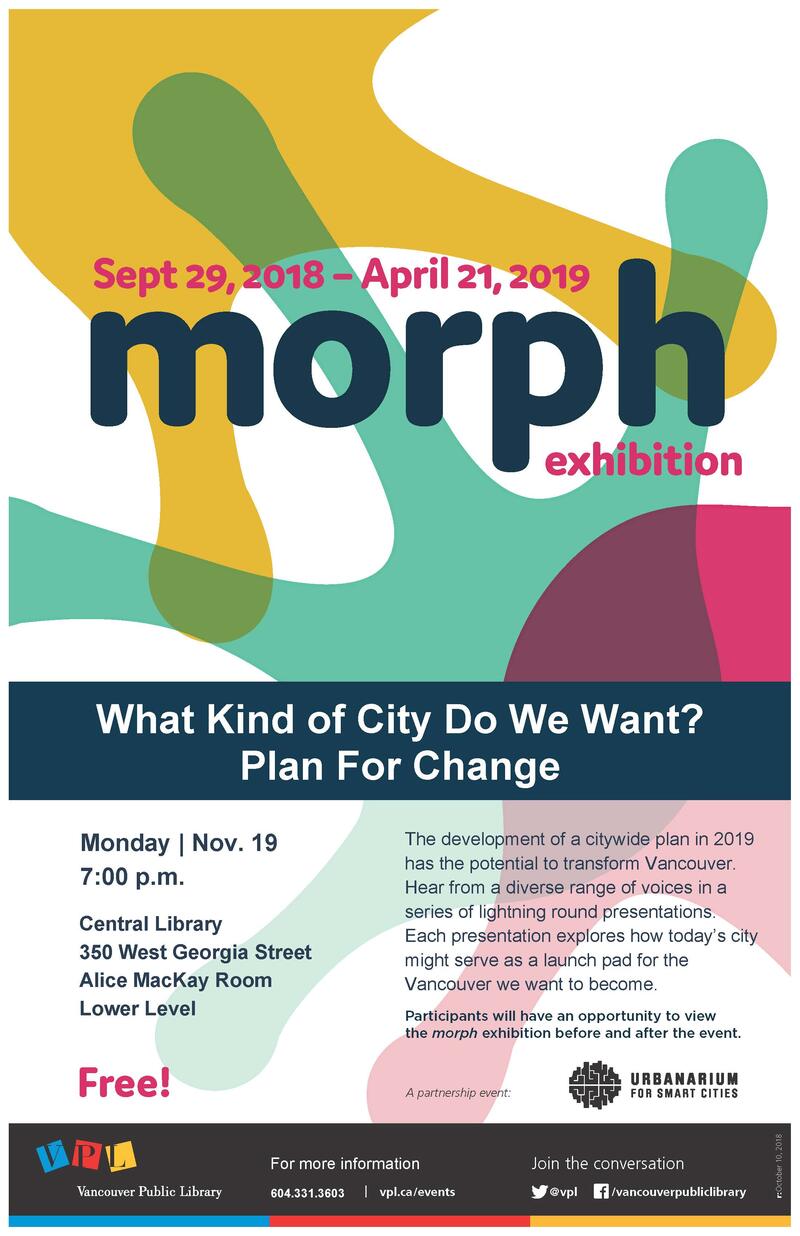 What kind of city do we want?
On November 14, the new council approved a motion, proposed by Councillor Adriane Carr, directing staff to begin "scoping of an expedited work plan and timeline to co-develop with Vancouver residents and stakeholders a citywide plan." The development of a citywide plan in 2019 has the potential to transform Vancouver. It would be Vancouver's first plan, although the Bartholomew Plan of 1929, never officially adopted, has had a decisive impact on the city.
Plan for Change is intended to spark conversation about the potential of the new citywide plan. At this event, learn about the Bartholomew Plan and hear a diverse range of voices explore essential issues we must consider as we think about a new Vancouver.
We're honoured to have CBC Radio One journalist Michelle Eliot joining us as moderator for a talk with the presenters and you.
Plan for Change, presented by VPL and Urbanarium, takes place at the Central Library on Monday, November 19th at 7 p.m. Free admission.
LIST OF PARTICIPANTS:
ANDY YAN is director of The City Program at Simon Fraser University and adjunct professor planning and urban studies at SFU and UBC. He has worked in the non-profit and private urban planning sectors with projects in the metropolitan regions of Vancouver and cities across North America. Andy specializes in urban regeneration, applied demographics, Geographic Information Systems, neighborhood development, public outreach, and quantitative research. His work frequently appears in print and online publications. Andy was a two-term appointee to the City of Vancouver City Planning Commission.
PENNY GURSTEIN is Professor and past Director of the School of Community and Regional Planning and the Centre for Human Settlements at UBC. She specializes in the socio-cultural aspects of community planning with particular emphasis on those who are the most marginalized in planning processes. Her research focuses on developing strategies and interventions that encourage diversity, equity and urban sustainability in the planning and design of communities. Her current research is investigating strategies for affordable homeownership and rental housing both internationally and in Canada.
SCOTT CLARK is a member of Sc'ianew First Nation and Executive Director of the Aboriginal Life In Vancouver Enhancement (ALIVE). This organization engages and supports urban Aboriginal peoples through local government agencies such as community centres, schools, libraries and police.
ERICK VILLAGOMEZ is an educator, researcher and designer who is founding principal of Metis Design-Build, an architecture and urban design practice. He is an adjunct professor at Kwantlen Polytechnic University's Wilson School of Design; and is editor-in-chief of the online publication Spacing Vancouver.
MEADHBH GRANT is a fourth year student at Simon Fraser University, majoring in History. Meadhbh is a participant in SFU Semester in Dialogue at CityStudio.
ELLIOT SHAW is currently pursuing a major at UBC in human geography with a minor in Urban Studies. Elliot is a participant in SFU Semester in Dialogue at CityStudio.
GERMAINE KOH is an artist, maker, and builder. Her current projects include League, a community project for playing invented games and sports, and Home Made Home, in which she designs, builds and advocates for small dwellings. She is currently serving as the City of Vancouver's first Engineering Artist in Residence.
EESMYAL SANTOS-BRAULT is social entrepreneur and CEO of Recollective. He has over ten years' building industry experience in sustainable design. He has worked for environmental organizations in the fields of renewable energy research and climate change education. He has cofounded and directed three non-profits that focus on creativity, sustainability and collaboration: HIVE Vancouver, Open Green Building, and Vancouver Design Nerds.
DAVE RAMSLIE is Vice President, Sustainability at the real estate developer Concert. Dave was previously a principal with Integral Group, where he led a team that specialized in helping companies and governments design sustainability strategies. His work has included leading projects such as the BC Energy Step Code and the Toronto Green Standard Update.
COLLIN VAN UCHELEN, Ph.D., is a Vancouver consultant in Community Psychology. He has over 25-years' experience creating community in collective homes, and he founded Vancouver's Collective House Network in 2007. His workshop, The Heart Of Belonging, has led hundreds of people to explore the concept of creating community in their lives.
MICHELLE ELIOT is the host of CBC Radio One's B.C. midday open line show, BC Today. Michelle, an award-winning journalist with CBC Radio One, has become a familiar voice as a regular guest host on regional and national programs.