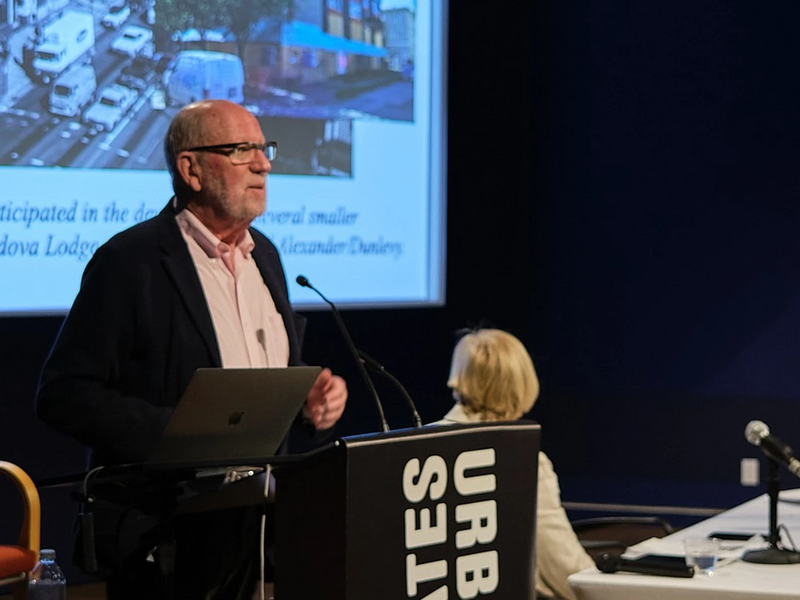 By Nathan Griffiths, published on March 29th, 2023, on the Vancouver Sun (Full Article)
An organizer says inclusion was a problem for event as many people invited opted not to get involved.  
A forum heard starkly different visions for the future of the Downtown Eastside Tuesday night: one pushed for more market housing in the historical neighbourhood, while another said the focus on keeping land prices low has meant thousands of much-needed social housing units could be affordably built.
But the debate, sponsored by Urbanarium — a charity focused on urban design issues in Metro Vancouver, also drew protesters who opposed the inclusion of the Portland Hotel Society as a representative of Downtown Eastside residents.
The society has been the focus of criticism from residents over conditions at the society's flagship Portland Hotel, including a months-long elevator outage at the nine-storey building. Some residents, many of whom have mobility problems, were trapped in their apartments for months. Residents have been asking to meet with PHS management to discuss compensation for the outage and guarantees around living conditions.
The Urbanarium's "Rethink the DTES Plan" debate pitted teams of two against each other to answer the question: "Is it time to rethink the DTES plan to allow for a greater mix of self-supporting uses, residents and businesses? Or, does the DTES plan effectively protect a vulnerable population and preserve/work toward a cohesive neighbourhood?"
A pre-debate poll suggested that 85 per cent of attendees thought the Downtown Eastside Plan needed to be rethought. After the debate, that number dropped to 45 per cent — a city debate record, according to Amy Nugent, executive director of Urbanarium.
Michael Geller, a planner and real estate consultant, said the neighbourhood needed to focus on diverse developments similar to what was done at the old Woodward's site. Geller worked on the Woodward's development on behalf of SFU and on a co-op housing development on False Creek.
"I've worked on a number of major projects in Vancouver, where the city requires a mix of housing," Geller said. "I am here tonight to try and convince people that indeed we should be building condos at Main and Hastings."
Tanya Fader, the director of housing at PHS, argued that the combination of COVID-19 and the toxic drug crisis, along with the increase in extreme weather only made the need to move forward with the plan "more urgent than ever."
"The major issue with the Downtown Eastside plan is that it hasn't been fully implemented. So we have yet to see the ultimate results," Fader said.
Jennifer Burciaga, who was invited to speak as part of a DTES residents group, agreed that the plan hadn't had enough time and lacked some of the resources it needed to succeed.
"They said it's a 30-year plan, but it hasn't even been 10 years working on it," she said.
Burciaga also expressed concern that residents were being "othered" in the discussion, calling out speakers for referring to people as "low-income" or "them."
"It was 'them, us, them, us,'" Burciaga said of the presenters. "That was very frustrating."
Online, critics excoriated the event for the panel's lack of diversity.
About 10 per cent of Downtown Eastside residents identify as Indigenous and another 39 per cent as members of a racialized group, according to the city's latest DTES plan update. That diversity was not seen onstage, although "interveners," who were invited to provide context to the discussion, added diversity.
Frances Bula, who moderated the event, acknowledged the difficulties organizers faced in recruiting speakers, saying that many potential speakers turned down the opportunity to speak because the subject was "too fraught."
"There's a lot of questions that have come in," Bula said, acknowledging concerns from people submitting questions online. "They're kind of broken into 80 per cent housing questions and 20 per cent 'Why are you white people talking about this?'"