Young Planners Assemble: Drawing the City Youth Want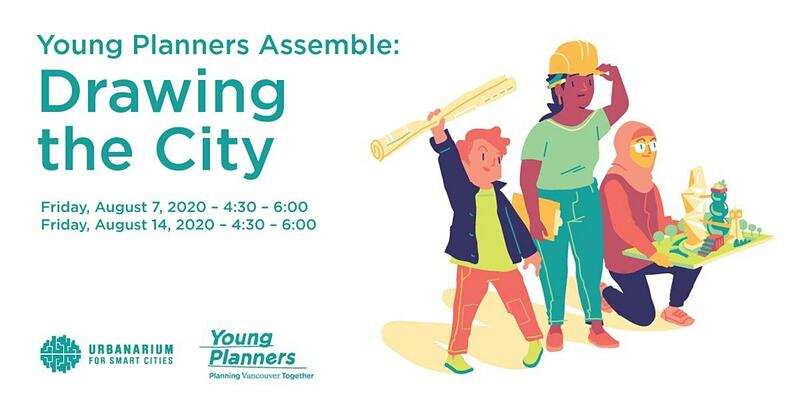 About the event
We've all experienced the pandemic in different ways, but one thing we all have in common is spending a lot more time at home and in our neighbourhoods. You've probably become an expert at what your neighbourhood has, like great climbing trees or cool murals, and what it doesn't, like parks big enough to meet your friends or a corner store close to you.
You can think about the great parts of your neighbourhood as something like a superpower, though they don't require a lab accident gone wrong to happen: we can just make different choices that will make our neighbourhoods work better for everyone, especially youth. Join us in the Urbanarium to draw the neighbourhoods you want. We're making a new plan for the future and it needs you.
At this event you'll get to talk with other youth about your neighbourhoods, see your ideas brought to life by a graphic facilitator, draw along in your official sketchbook and tell the City of Vancouver what you want for the future. Join us in the Urbanarium: We can't wait to hear from you.
After registering you'll be sent an email with the Zoom Meeting link, a pre-event activity and instructions for how to pick up your official urban design sketchbook!
Note that honoraria is available to support the participation of as many of our Young Planners as possible! Contact Stina Hanson, Child and Youth Engagement Planner at 604-786-2078 or at stina.hanson@vancouver.ca to discuss honoraria or any other questions about the event. 
Visit www.vancouverplan.ca/youngplanners for more information about the Vancouver Plan and our Young Planners Program. Visit Urbanarium to learn more about their programs and events.
This event is for City of Vancouver Young Planners only (those planners who are under 20 years of age). Our more mature planners can visit www.vancouverplan.ca for information about how they can get involved.