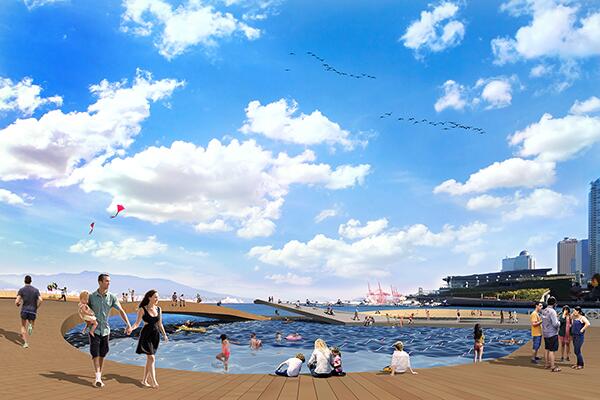 Feb 19
06:00 PM - 09:00 PM
This event is: Public
Admission Fee: Access to Your Future Home included with admission: $15 adults; $11 Students & Seniors; Free for MOV Members.
About the event
What opportunities exist to create innovative, engaging public spaces in one of Canada's most densely populated and expensive cities? How can a highly livable city surrounded by unparalleled natural beauty be described as "no fun" or have disengaged, unhappy citizens? 
Join us for a lively discussion about what's possible for Vancouver's public realm, one that engages the water surrounding Vancouver in new ways. At this event presented by HCMA, people will discover the informed research and creative process behind Coal Harbour Deck (on display in Your Future Home), a project that reclaims Vancouver's water for a new type of urban space. Visitors can have a look at some other initiatives that HCMA is working on to create and enhance public social spaces, and improve Vancouver's relationship with water. Access to the Your Future Home exhibition is included with admission to this event.
Following the presentation, Mark Busse will facilitate a discussion about how we can, collectively, create new and engaging public spaces in our city as well as a fun activity with a prize for the best audience contribution! Grab a drink from the cash bar, have a snack, dive in to the issues, and let the ideas and conversation flow!
Melissa Higgs is an architect and Associate at HCMA.  Melissa is passionate about creating innovative public buildings where communities come together. Her focus has been designing recreation facilities and arts and culture projects, including the Grandview Heights Aquatic Centre in Surrey, BC. She is experienced leading projects at all scales, including functional programs, renovations and expansions. Melissa is a member of the City of Surrey's Advisory Design Panel and the AIBC's Diverse Membership Group.
Paul Fast is an architect and Associate at HCMA. Paul's work is focused on reconnecting people to their environments through the considered use of material, form, space and light. As an Associate, Paul enjoys the initial stages of concept design when site, user and program are defined. His careful consideration of these key decisions helps to shape the outcome of the design and building process for projects including the Coronation Community Recreation Centre in Edmonton as well as the award-winning UBC Faculty of Pharmaceutical Sciences.
Together, Melissa and Paul have been leading the research HCMA is conducting on the changing nature of outdoor swimming.
Mark Busse is a recovering communication designer and experienced facilitator with a belief that curiosity and conversation can result in built environments that delight and inspire. Mark's career has put him on the frontier of applying design methods to social and strategic questions in business, community and the arts, and he has been an outspoken design industry writer, speaker and activist, serving on various industry boards, advisory councils, and education programs. He is the host of Creative Mornings Vancouver and Interesting Vancouver.
This MOV Happy Hour event is presented by HCMA.
Location: Museum of Vancouver
49.276367, -123.144443
Museum of Vancouver
1100 Chestnut St
Vancouver, BC
Canada