West End Games Night in the Jim Deva Plaza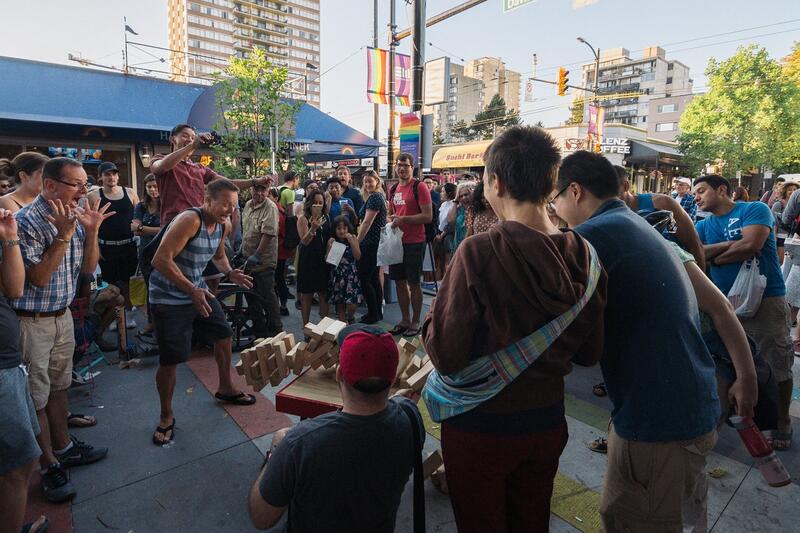 Jul 7 — Aug 31
7:00pm — 9:00pm
About the event
It feels like summer, and that means our West End Games Night is going outdoors!
Join us in the Jim Deva Plaza for a *FREE* games night, hosted every other Thursday this summer. Presented by Young Ideas, the events are a fun way to play board games in public, meet your neighbours, and jam to local musicians. 
We'll have a jumbo Jenga set, Hex-a-pong (our six-person ping pong table), and dozens of board games to loan out, such as: Ticket to Ride, Monopoly, Settlers of Catan, Scrabble, Cards Against Humanity, Pictionary, Citadel, Bang, and lots of other classic party games. 
West End Games Night Dates: 
Thursday, June 14th, 6:00-9:00pm
Thursday, June 28th, 6:00-9:00pm
Thursday, July 12th, 6:00-9:00pm
Thursday, July 26th, 6:00-9:00pm
Thursday, August 9th, 6:00-9:00pm
Thursday, August 23rd, 6:00-9:00pm
After August, the West End Games night will be hosted monthly at Gordon Neighbourhood House from 7:00-11:00pm. 
Young Ideas is a group of neighbours who coordinate events, activities, and workshops for people in their 20s, 30s (and older!) who live, work, and spend time in Vancouver's West End. These events are often free or low-cost to encourage community connections. Follow us on Facebook to find out about upcoming events. 
This year we are hosting: free weekly yoga classes, monthly cooking workshops for $2, bi-weekly dance classes, Crafternoons, brewery bike-crawls, gardening workshops, a parklet proposal, West End murals, and our popular Absolutely Pride party to name a few. 
If you are interested in volunteering for this event or want to help plan future events, email youngideas@gordonhouse.org. Our meetings are open to everyone (no experience required), and take place on the second Tuesday of every month.
Support for the West End Games Night is generously provided by Gordon Neighbourhood House, the West End BIA, and The Jim Deva Plaza Stewardship Committee. 
We acknowledge that we are on the unceded, occupied, ancestral and traditional home lands of the Swxwú7mesh (Squamish), Xmkwym (Musqueam), and Slílwta (Tsleil-Waututh) nations. It is important for us to also recognize the historical and ongoing colonial genocide against Indigenous peoples that make it possible for us to be here as settlers.