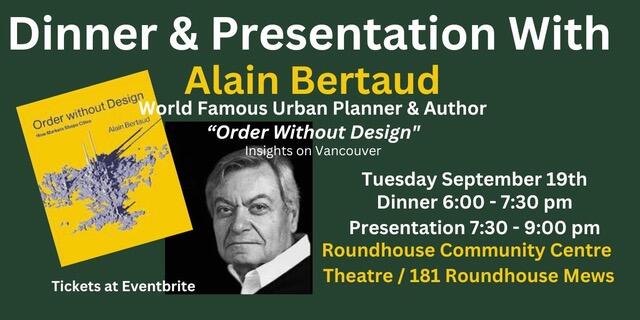 Sep 19
07:30 PM - 09:00 PM
This event is: Public
Admission Fee: $22.63
About the event
Alain Bertaud has spent his life observing and advising fifty cities around the world. Bertaud worked for le Corbusier and Pierre Jeanneret designing Chandigarh in India for his first job.These experiences have lead him to write the internationally acclaimed "Order Without Design". What does he have to say about Vancouver?
Join us to gain insights on addressing our affordability problem and creating a more dynamic and innovative city.
Alain's book Order Without Design is revolutionizing the way cities throughout the world are being managed, bringing his message that cities are complex systems that sometimes need the approach of a designer, sometimes the approach of a gardener.
There are a limited number of complimentary student tickets available. RSVP:  lzanatta@globalcivic.org
Tickets available at Eventbrite.
Location: Theatre at Roundhouse Community Arts and Recreation Centre
49.2734378, -123.121716
Theatre at Roundhouse Community Arts and Recreation Centre
181 Roundhouse Mews
V6Z2X1 Vancouver, BC
Canada