VMF 2018 Vancouver Mural Festival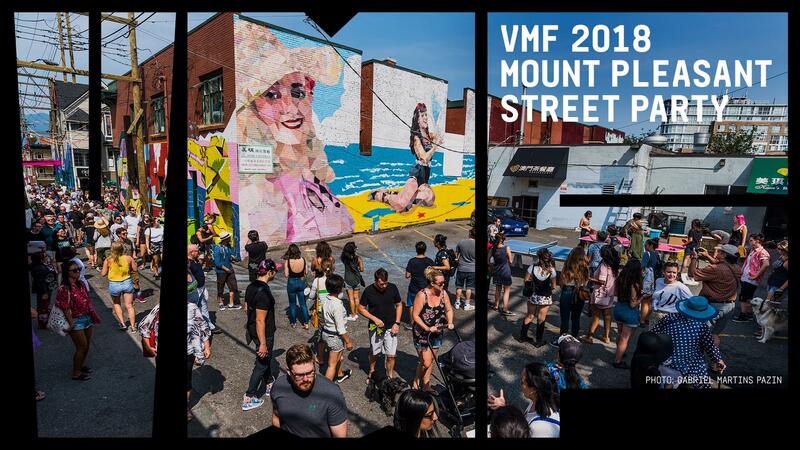 About the event
Create Vancouver Society with support from the City Of Vancouver, Mount Pleasant BIA, Canadian Heritage and The Province of British Columbia, proudly announce the return of the 3rd Annual Vancouver Mural Festival beginning on Monday August 6th and culminating with a street party on Saturday August 11, 2018.
STREET PARTY
Transformed alleyways, live art, multiple stages, markets, street dance battles, graffiti jams, a huge craft beer garden, and of course: 30+ brand new works of public art. 
MURALS
The focus is once again mostly on an eclectic range of local and regional artists from diverse backgrounds in gallery-centric fine art, tattoo, street art, graffiti, traditional and contemporary indigenous design, and more. Vancouver standouts like Danielle Krysa (The Jealous Curator) and Musqueam designer and weaver Debra Sparrow top the list in addition to an all-star all-female roster of international guest muralists: FaithXLVII (South Africa), Bunnie Reiss (L.A.), and BK Foxx (New York). We are also excited to highlight a number of murals in partnership with local organizations such as Downtown Eastside Centre For The Arts, THRIVE Art Studio, Burrard Arts Foundation, and The Mount Pleasant Neighbourhood House.
VANCOUVER MURAL FESTIVAL 2018 ARTIST LIST:
Faith XLVII / Bunnie Reiss / BK Foxx / Alexia Tryfon / Altheana Picha / Andres Salaz Ciara Havishya / Debra Sparrow / Def3 / Guts / Hannah Lee / James Acrow/ Jean-Paul Langlois / Jordan Gallie / Linsey Levendall / Mable / Michelle Nyugen / Nabes Other / Phantoms In The Front Yard / Renos / Ronnie Dean Harris / Sage / Sara Kahn T-Bone / Danielle Krysa (The Jealous Curator) / Tyler Toews / Vers / Zac George / Zox