Pitch & Network: Marketplace for Disruptive Ideas in Urban Sustainability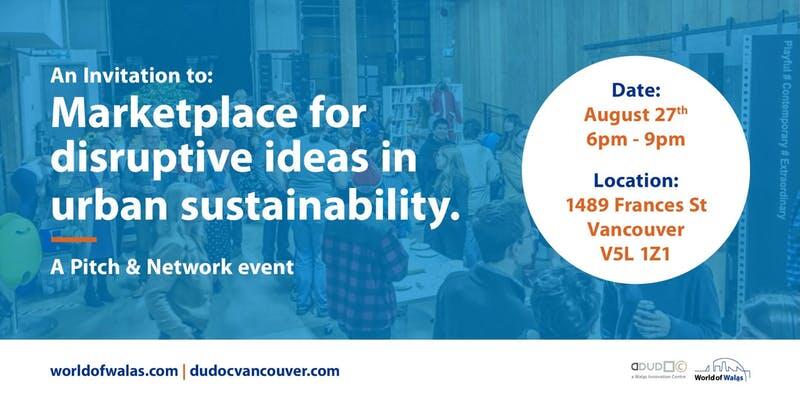 About the event
Dudoc Vancouver and the World of Walas invite you to our upcoming event on August 27th: Marketplace for disruptive ideas in urban sustainability. 
Our mission at Walas is to break down barriers to innovation. This event will feature innovative business models, products and services that are actively pushing for greater sustainability in our cities.
Specifically, for the pitch session, we are selecting established innovations in mobility, tech, construction, energy and urban food systems to present their company to you.
The evening will feature: 
Opportunity to learn about 10 selected sustainable innovations that will shape our cities of tomorrow
Voting for the most progressive innovations and help them win a 3-month Dudoc partnership package
Our network of innovators, urban planners, change makers, government and investors that are keen to help transform our cities with you
Program Outline
6pm Networking and refreshments
6:30 Welcoming, introductions to pitches
6:4010 pitches, 3 - 5 minutes each
8 Q&A, feedback and voting from audience 
8:20 Winner announcement 
8:30 - 9 Networking 
Location: Dudoc Vancouver