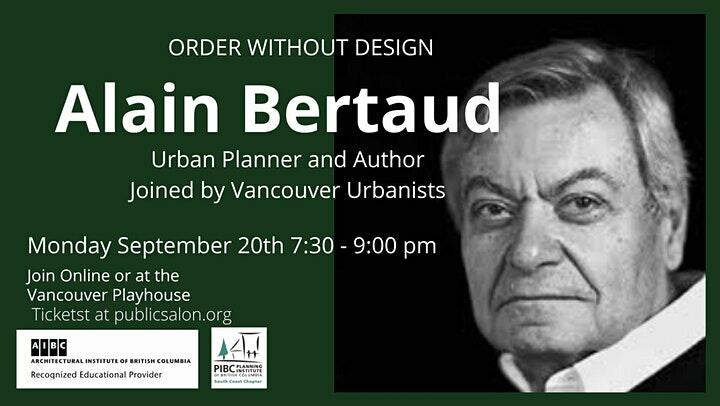 Sep 20
07:30 PM - 09:00 PM
This event is: Public
Admission Fee: $36.55+
About the event
The Alain Bertaud Public Salon [publicsalon.org] will take place on Monday, September 20 at the Vancouver Playhouse from 7:30 PM to 9:00 PM in advance of his  workshops and gatherings in Vancouver next year.  Alain has worked in 50 cities around the world in the last six decades. His first job was working for le Corbusier designing Chandigarh India and he was the Chief Urban Planner for the World Bank. He is author of the internationally acclaimed Order Without Design and his goal is to bring the professions of urban planner and urban economist closer together to benefit cities and citizens.
Alain Bertaud will join us on the Big Screen in conversation with 6 local urbanists. We will hear from Chris Lewis, Squamish Nation leader of Indigenous-led developments; Jens von Bergmann with striking new date visualizations; Wendy Waters, researcher and historian GWLA; Julia Harten, UBC Planning Professor; Andrey Pavlov, SFU Beedie Professor; and Michael Mortensen, City Planner; with major presentation and discussion by Alain Bertaud internationally acclaimed Urban Planner and Author.
Come hear short presentations and conversations about the future of Vancouver. Learn why we are at a tipping point to bring about serious changes to our development system. We will be keeping a socialy distanced opportunity for discussions for 1 hour after the event. Please share this with your friends and colleagues.
.
Get your tickets here.
30 complimentary tickets have been set aside for students. Apply at info@globalcivic.org with brief description of your school and why are you would like to attend.
The  Architectural Institute of BC, the Planning Institute of BC, the BC Society for Landscape Architects will be providing Professional Development Credits to any of their members who attend.
We are very grateful to our Host Sponsors Wesgroup, Bucci Developments, Intracorp, IBI Group, Bryce Rositch, BOP Architects, Wall Financial Corporation. We also thank the Lotte & John Hecht Foundation for supporting this project
The Vancouver Playhouse is limiting their seating and is following the recommendations of the Public Health Officer. Seating will be spaced throughout the theatre and vaccine documentation will be required for entry.
Location: Vancouver Playhouse
49.280774, -123.112513
Vancouver Playhouse
600 Hamilton Street
Vancouver, BC
Canada