43rd Annual Powell Street Festival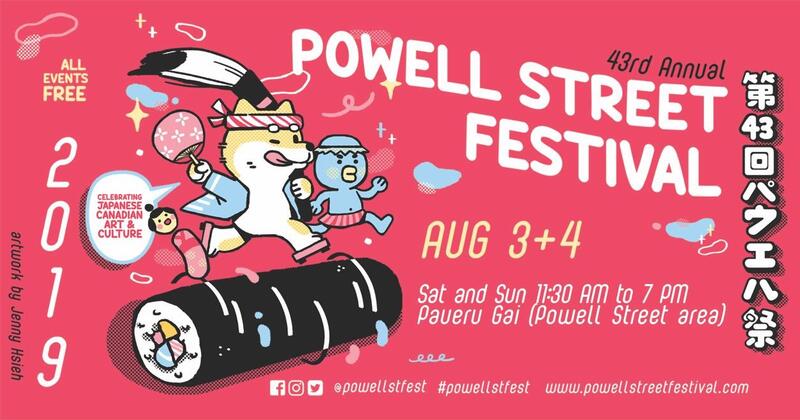 Aug 3 — 4
11:30am — 7:30pm
About the event
Vancouver's annual celebration of Japanese Canadian arts & culture. All events are free!
SATURDAY, AUGUST 3 & SUNDAY, AUGUST 4
11:30AM - 7:00PM DAILY 
Paueru Gai (Powell Street area) centred at Alexander Street & Jackson Avenue 
Firehall Arts Centre (280 East Cordova Street)
Vancouver Japanese Language School (475 Alexander St)
Vancouver Buddhist Temple (220 Jackson Avenue) 
☆☆☆ FESTIVAL HIGHLIGHTS ☆☆☆
Live Music ☼ Japanese Food ☼ Sumo Wrestling ☼ Literary Events ☼ Dance ☼ Film ☼ Martial Arts ☼ Craft Vendors ☼ Omikoshi ☼ Theatre ☼ Taiko Drumming ☼ Walking Tours ☼ Anime ☼ IIkebana & Bonsai Demos ☼ Children's Activities
☆Yuni Mori will bring her original piano compositions and delicate voice from Yamanashi, Japan 
☆Teke::Teke, a seven-piece band from Montreal, will rock their Takeshi Terauchi-inspired blend of shoe-gaze, post-rock and noise 
☆Seattle's Katrina Wolfe will unveil a shape-shifting butoh experience 
☆June Fukumura will appear as her dark humoured, clown alter-ego Sumiko for a quirky interactive Japanese game show. 
☆ Full Program, Scheudle and Map to come. 
Getting Here: 
The festival takes place on six car-free city blocks centred at Jackson Avenue and Alexander Street. The #4 (Powell/UBC) and #7 (Nanaimo Station/Dunbar) buses stop at Powell Street and Jackson Avenue, or you may take one of the many buses that go down East Hastings Street, such as the #14, #16, #20 and #95, all of which connect to the Canada Line's Waterfront Station stop for those travelling from the Vancouver Airport (YVR), City of Richmond, and North Vancouver. The festival has two bike valets.